The RisingSoul Community & BalkanNomads community is a blend of yoga coaches, solo travellers and digital nomads. Set in an area of outstanding natural beauty. Luckily for our community this part of the Balkan Mountains has several well kept secrets.
The closest of which is Voneshta Voda which directly translates to smelly waters! This hub for well being is just 3km away, easily accessible by bike or car our coliving and retreat guests can enjoy the healing properties of the mountain mineral spa. Whilst the mineral spa has been a popular destination for Bulgarians, Russians and other Eastern European travellers for decades its virtually unknown in the digital nomad, backpacking and solo traveller community.
For only 10 lvs a day guests can go and use the facilities at the largest Spa Hotel in Voneshta Voda which has great facilities including an indoor pool, seasonal outdoor pool mineral lake, sauna and gym. You can also book massages with the hotels freelance masseuse who is highly recommended and provides a variety of treatments.
But if you're a digital nomad or solo traveller who is looking for a more active pastime then you won't be disappointed. The endless mountain tracks and trails will keep hikers and mountain bikers busy and fit with a range of hill climbs and flat routes to choose from and allowing our Co-Living solo travellers and digital nomads to keep fit and active while they are remote working.
If climbing is your thing then you won't have to travel too far there are a number of natural sites around the area and caving spots. Just 35 minutes north takes you to the climbing area around Veliko Tarnovo which is well rated with climbers…
Great crag with grades from 4-5a to 7b. The crag is in the sun and best climbed before it gets hot. Best time is in April-May and September-October. Some protections are with expansion bolts but most of them with chemical resin rings.
Winter sports are you a Digital Nomad or Solo Traveller who loves to play in the snow well whether your a skier or a snowboarder we've got that covered as well. The local resort of Usana, Buzludzha and student slope Riviera are all within a 1h – 1.5h range with a range of slopes for beginners to intermediates. All of these resorts are accessed over the famous Shipka Pass route. This winding mountain road leads you over the highest point in this part of the Balkans and the monuments and tributes to wars gone by are a popular travellers must see at any time of year.
Advanced slopes are available a bit further afield and all of the local resorts are extremely reasonable prices and affordable on a budget. Making them ideal for budget solo travellers and digital nomads who are still getting established or on a restricted budget. There are a total of 10 ski lifts in the Usana resort and the ski season is generally mid Dec until early April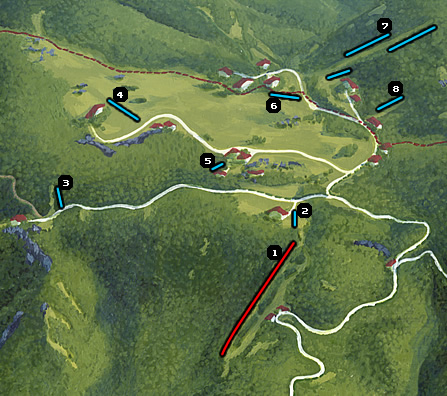 If your a solo traveller or digital nomad in search cultural experiences then you are in for a treat the RisingSoul Co Living & Retreat Space is privileged to be in the township of one of Bulgaria's best kept heritage towns. Tryavna is just 7km away our Co-Living community is situated just 100 metres away from the well maintained but quite mountain road, which takes you directly over the mountain cross with its spectacular views.
In just 10 minutes you will arrive to the edge of this fabulous old town. Famous for its traditional Bulgarian architecture, wood carving, museums and 11th century churches it is a popular destination for locals and international rural tourism.
The town has a wide selection of restaurants, bars, cafes with multilingual menus. Its bustling cobbled streets are a picture perfect destination for any solo traveller or digital nomad. With fantastic photo opportunities everywhere you will have plenty of time to explore the amazing cuisine, craft beers, riverside restaurants clock tower square and much much more.
But Tryavna is not the only cultural gem for our co-living community and retreat guests . The old mountain capital of Veliko Tarnovo located on the Yantra River and known as the "City of the Tsars" is just a 25 min drive away North. Our solo travellers and digital nomad guests can explore the old town river view restaurants and spectacular castle and cathedrals. It's a more cosmopolitan vibe than Tryavna and has all the large chain amenities you would find in most large towns or small cities. However, it rich cultural history historic buildings and fabulous river views make it a must see.
In the area around Veliko and Tryavna there are endless places to visit and explore including caves, monasteries vineyards and much more. Heading South on the Veliko road will take you to Stara Zagora Lake, the Valley of the Roses and large areas of vineyards. Bulgaria is famous for its Rose oil production and a wide range of products can be purchased. In addition to the fantastic range of Bulgarian red wine this area is a winner with any solo traveller or digital nomad.
We are very grateful to be able to build our bespoke community and yoga retreat space for solo travellers and digital nomads in such a unique, vibrant and culturally rich area with such a wide range of social and sporting activities.
We can't wait to share the Balkan experience with our community and retreat guests.